Drones are finally flying into view of the mainstream media in the U.S. CNN gave the Codepink-led
delegation to Pakistan coverage
yesterday, perhaps because the group is going to be brave enough to march into Waziristan, which has seen so many deaths by drone.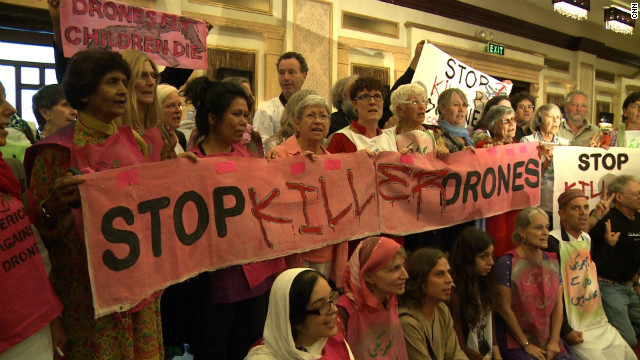 "Code Pink, a rights group from the U.S. are in Islamabad to protest U.S. drone attacks in northern Pakistan." Source: CNN
"We are here to say, on behalf of those Americans with a conscience, that we apologize to the people of Pakistan for the killing and suffering" caused by the drones, Medea Benjamin, one of the founders of Code Pink, said at a news conference Thursday in Islamabad.
Of course I love it when my activist allies get some press, but I'm even more thrilled that lately articles on militarized drones make reference to a powerful academic study of how drones have affected people living under their menacing presence.
... a study released last month by Stanford Law School and New York University's School of Law said the drone attacks had killed far more people than the United States acknowledges, traumatized innocent residents and been largely ineffective. Civilians account for a significant portion of those killed, the study said.
Codepink and other anti-drone activists have teamed up with the photogenic Imran Khan, soccer star turned politico, for the march. They've curtailed the route somewhat but still plan to rely on
agreements from locals to protect them
as about 1,000 people march peacefully to the affected area in Pakistan, a tribal zone on the border with Afghanistan, whose people have suffered their own share of deaths by drone.
You can read news from the march, which begins on Oct 7, the 11th anniversary of the day the U.S. attacked Afghanistan,
here
. Also take action to reach out with Codepinksters to help some of those injured by drone strikes:
Thanks to all of you who donated so generously to our medical aid fund for survivors of drone attacks. There's still time to contribute if you haven't already. Every dollar counts. Donate here.
Drone shrapnel -- imagine what this does to a child it lands on.