There has been a lot of news this week about the working class men and women struggling through our long imperial wars.
Saddest news: this about troops (I hate calling human beings by that name) that the U.S. public apparently forgot to support.
Source: Washington Times
Los Angeles officials cannot explain why the unclaimed bodies of 52 U.S. military veterans had accumulated over the last 15 months at a county morgue because no one arranged for their burial.
"All the people who touched this process are working together to figure out how this occurred," said county spokesman David Sommers, The Los Angeles Times reported Thursday...
The problem began last year when Rose Hills Mortuaries, which transported the bodies of homeless veterans to Riverside National Cemetery under a charity program, started cutting back services...
Most moving news: Video testimony by the father of POW Bowe Bergdahl reflecting on his son's five years of captivity in Afghanistan, and the significance of the imperial expansion project that Bowe lost faith in.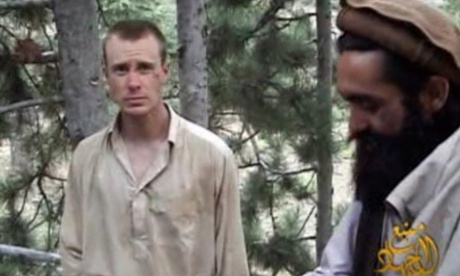 "I don't think anybody can relate to the prisoners in Guantánamo more than our family, because it's the same thing. How could we have such a high standard of judicial process for horrible war criminals [during World War II] ... and yet now we can go for 10-11 years without even having judicial process? It's just wrong."
Most mysterious and disturbing news:
the reminder that when reporter Michael Hastings went up in a
ball of flames
while driving his car in Los Angeles last year, he was
investigating the Bowe Bergdahl story
.
Three years into the disappearance of Bowe Bergdahl in Afghanistan, Michael Hastings — the journalist whose reporting cost General Stanley McChrystal his job — wrote a Rolling Stone story on the missing soldier, a piece which the magazine called "the definitive first account of Bowe Bergdahl."
Hastings, who died in a car accident in Los Angeles in June 2013, had unparalleled access for that story.
He spoke to Bergdahl's parents, who had by that time stopped talking to the press, following "subtle pressure" from the army, and he quoted from emails the young soldier had sent to them, documenting his growing disillusion with the war and the US military.
Most hopeful news: The release of five prisoners from

Guantánamo

prison, that most notorious island in the U.S. gulag archipelago.
The Obama administration brokered the deal to swap the five for Bergdahl without consulting Congress and thus established that the POTUS does have the power to close
Guantánamo --
as he has repeatedly promised.
From Medea Benjamin and Alli McCracken of CODEPINK on the blog Antiwar.org:
Called "the hardest of the hardcore" by hawkish Republican Senator John McCain, the Guantánamo prisoners released in the swap have been identified as high-level Taliban operatives. According to Human Rights Watch, one of those released, Mullah Norullah Nori, could be prosecuted for possible war crimes, including mass killings. All of the men were recommended for continued detention because of their "high-risk" status. Qatar has assured the US that the released men will be held and monitored in Qatar for at least a year, but some US officials are highly critical of the move, saying that the men are likely to return to their former positions within the Taliban.
If Obama is willing to take the risk with these "high-risk" prisoners, and if he really wants to close Guantanamo as he has claimed many times, why hasn't he been using his authority all along to release the 77 prisoners already cleared for release? Of the remaining 149 Gitmo prisoners, 77 were cleared by the President's Guantánamo Review Task Force – meaning the US government has deemed them innocent or not a threat to Americans. But since President Obama's speech at the National Defense University in May of 2013, in which he reiterated his promise to close the detention facility, only 12 of these men have been transferred.
Why were those five dangerous men released while scores of detainees who have been cleared for release for years remain? Refer back to most mysterious news of the week. And stay tuned.