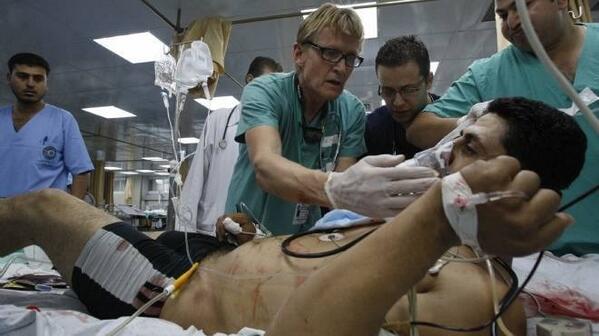 Maybe you remember the Norwegian doctor whose shocking reports from a hospital in Gaza City this past summer detailed the hundreds of children being wounded and killed in Israel's so-called "Operation Protective Edge" bombings. Dr. Mads Gilbert has been on a tour in the U.S. speaking to those he addressed as "you good people" concerned about human rights abuses in occupied Palestine, and I was lucky enough to be in the audience in Portland, Maine last night to hear him.
Lucky to hear one of the most difficult presentations I have ever sobbed through. Gilbert is a skillful presenter who speaks excellent English, and he eased us into his difficult material by presenting data and historical context. He has been a firsthand witness of the series of air wars on Gaza's trapped civilians because
Tromsø
, his hometown in Norway, is sister city to Gaza City, and his government subsidizes the work of medical caregivers who travel to Gaza.
Gaza, August, 2014 photo by Dr. Mads Gilbert
Gilbert described the samoud or steadfastness/resilience of his Palestinian colleagues at the hospital with great respect. Similarly, he shared his own photos of Gazans picking through the rubble of their homes, medical clinics and factories as evidence of the samoud that he observes characterizing Palestinian culture.
Only then did he show us the worst of the images he recorded during July and August, 2014. Photos of little children with ghastly shrapnel wounds, burned and panicked; Gilbert included the audio track of a child screaming in fright while doctors and nurses work on intubating him over a background of constant drone noise and massive explosions.
It was his third appearance of the day, having already come from Cambridge where he spoke at Harvard. He noted the sea change in public opinion turning against Israeli aggression: not a single Zionist screamed at him from the audience, and he was able to move around on the Harvard campus without police security protecting him. Unthinkable two years ago, he said. Things are changing. Keep contacting your government officials.
Meanwhile, not uncoincidentally, Gilbert has been banned from entering Gaza -- despite a valid visa and years of humanitarian work as an anesthesiologist and emergency room doctor at Al-Shifa Hospital. At his last attempt to cross into besieged Gaza from the Erez crossing in Israel, he was turned back; yet another blow to the health and well being of Gazan children and their families. He has also been turned back from Rafah, the only other entry point to Gaza, now controlled by the Sisi regime in Egypt.
Gilbert seriously objected to the narrative of Israel's "self-defense" in its repeated attacks on Gaza. If you missed him on his speaking tour, you can watch his testimony from Norway.
A quote from the above video recorded back in Norway at the end of July, 2014 sums up what I heard Gilbert say in Portland last night:
"This is not a battle between terrorism and democracy. Hamas is not the enemy Israel is fighting. Israel is waging a war against the Palestinian people's will to resist. The unbending determination not to submit to the occupation."
He also recommended we read the
Gaza Initial Rapid Assessment
published August 27, 2014 by the
United Nations Office for the Coordination of Humanitarian Affairs, Occupied Palestinian Territory.
Israel's fatalities during "Operation Protective Edge"
Gaza's fatalities during "Operation Protective Edge"
Gilbert ended by urging those of us living in the wealth and relative security of the U.S. to support the Palestinian struggle by contacting our government officials to stop enabling Israel's violence, and by engaging in boycott, divestment and sanctions work (BDS) to bring economic pressure on Israel.
I note several BDS wins in recent weeks: blocking Zim ships from coming into port to unload in California; getting SodaStream to announce the closure of their factory located in a West Bank settlement; and getting online retailer GILT to drop Ahava cosmetics, which are made of pillaged materials taken from the occupied territory around the Dead Sea.
To find out more about BDS and how to get involved, go here. If you're in Maine, join us in the Maine BDS Coalition here. You can also like the Maine BDS Coalition on Facebook.
And starting this week, check out Codepink's latest campaign targeting RE/MAX realtors a company which brokers the sale of property confiscated from Palestinians. Send a message to

Dave Liniger, Chairman of the Board of Directors of RE/MAX International, and tell him to stop RE/MAX Israel's illegal sales of Jewish-only settlement homes on Palestinian land.